This article is filed under:
Saudi Arabia
Roger Bantiles in Opinyon, questioned the Philippine government.
"Still, the remittances from the Middle East are substantial and are at present threatened by the free fall of the price of oil in the world market.
There are many factors precipitating the wild tumble of the price of oil. OPEC's decision to flood the market in order to squeeze out shale oil producers caused an oil glut from its own production and from the shale oil producers it wanted to squeeze out.
The problem is, while many of the shale oil producers were indeed thrown out, the bigger players achieved levels of efficiency that has kept them in the market. So the oil glut has continued and is expected to continue for some years to come. There is no bright prognosis for the global oil industry in the next 5 years or so."
Below are the rapid news just within today when the Saudi budget was released for 2016 via the cabinet session, 28th December 2015 chaired by His Majesty,
Custodian of the Two Holy Mosques King Salman.
Octane 91 will now cost 75 from the current 45 halalas.
Octane 95 will increase to 90 halalas from the current 60 halalas.
Electricity subsidies as well as water prices will be adjusted in the next 5 years that will make the cost higher.
VALUE ADDED TAX WILL BE INTRODUCED.
TAXES FOR SOFT DRINKS, TOBACCO AND THE LIKE WILL BE INCREASE.
— Arab News (@Arab_News) December 28, 2015
OTHER MEASURES
REVIEWS AND POSSIBLE INCREASES IN FINES, PENALTIES and INTRODUCTION OF NEW FEES as additional source of revenue.
BUDGET WILL BE TIGHT in some government agencies and departments AS BUDGET CUTS WAS INTRODUCED BECAUSE OF OIL PRICE DECLINE
EXPECT MORE INCREASES IN PRICES OF SERVICES, FOOD, AND HOUSING RENT

SOME OFWS IN THE ENERGY SECTOR AND CONSTRUCTION SECTOR MIGHT LOSE THEIR JOBS

IT IS HIGH TIME TO SAVE, FOR ALL OFW'S WORKING IN THE MIDDLE EAST
ArabNews reported that other measures introduced was:
• Reducing the growth of recurring expenditures, especially wages, salaries, allowances and the like, which amounted to SR 450 billion, exceeding 50 percent of the approved budget expenses.
• Optimizing operating expenditures, including the rationalization of government agencies' expenses, the utilization of technology (IT) for the delivery of government services, and the development and strengthening control and governance mechanisms.
• Completing the revision of the government's competitiveness and procurement law, in accordance with world-class practices.
• Establishing a unit in the Ministry of Finance for public debt management. The new unit will be responsible for developing and overseeing the public debt and financing strategy and strengthening the Kingdom's ability to borrow both domestically and internationally; thus contributing to the market for sukuk and local bonds.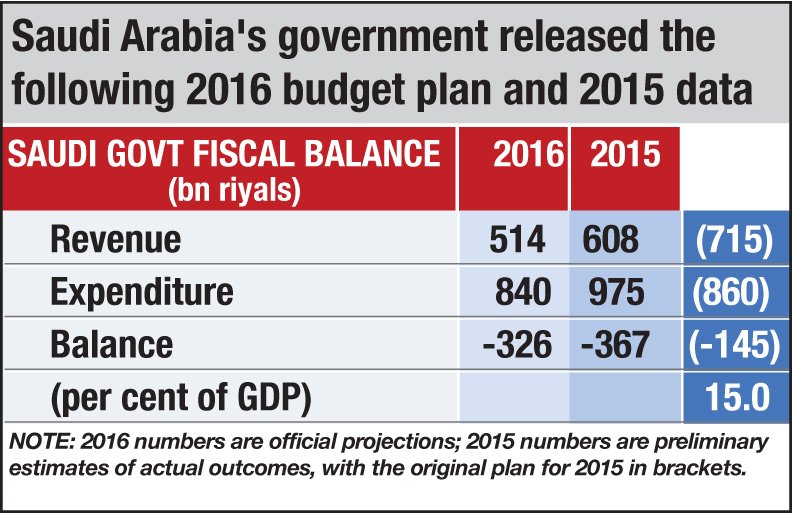 Image from Arab News
This article is filed under:
Saudi Arabia
©2015 THOUGHTSKOTO