Ayun sa Japan Industry Ministry at sa isang UK Doctor na nagtratrabaho sa NHS, mas effective diumano ang Dishwashing Soap bilang panghugas ng mga gamit at kamay laban sa Corona Virus 2019.
Ito ang itsura ng Novel Corona Virus 2019. Ang nasa loob ng bilog na yan ang ang virus na natatakpan ng tinatawag nilang lipid layer o fatty shell. Para tuluyang mapuksa ang virus, kailangan mo ng sabon na bilang degreaser na siyang bubuwag ng bilog na shell o nucleus na iyan. Panoorin ang video sa ibaba para mas maintindihan. Naalala mo ang dishwashing soap na kayang tanggalin ang mantika at sebo? Ganyan na ganyan ang Corona Virus, parang sebo na kapag nahugasan ng sabon ng atleast 20seconds ay namamatay.
How soap kills the corona virus? Watch this.
Sponsored Links
Ayun pa sa report, ang dishwashing soap ay epektibo sa paglilinis at pagdidisinfect ng novel corona virus sa ulat ng Japan's industry ministry nitong Miyerkules.

Ang dishwashing soap ay magagamit na alternabo sa mga alcohol-based disinfectants kagaya ng hand sanitizers at alcohol na sobrang salat sa stocks at paubusan ang suplay.
Ayun pa sa mga eksperto sa Japan, may tatlong compounds na lumalaban sa coronavirus at ito ay ang surfactants, karaniwang ginagamit sa mga sabon at cleaners, hypochlorous acid water, at quaternary ammonium salts.
Samantala ito naman ang tinatagal ng COVID19 sa hangin, sa copper, sa mga hawakan ng pintuan at switches ng ilaw, sa cardboard, plastic at glass.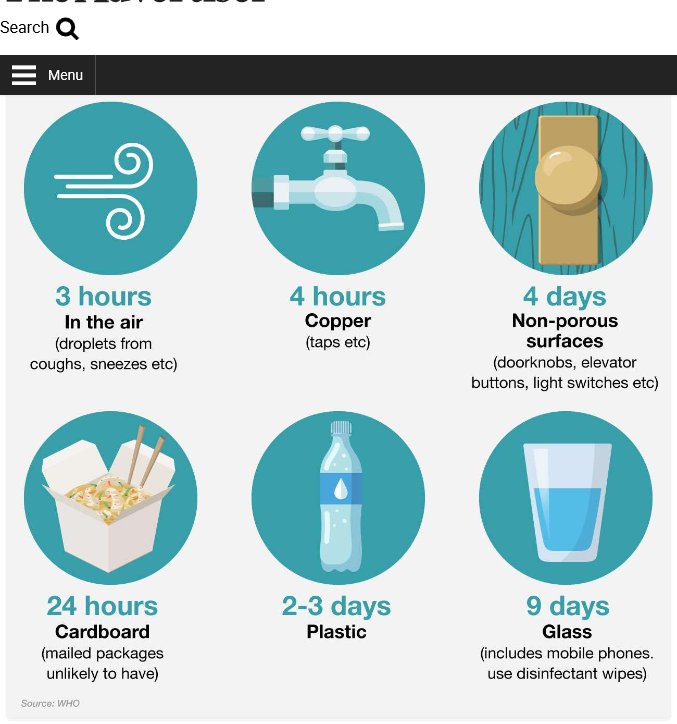 Just a quick reminder COVID-19 is enclosed (the skin if you like) is fatty tissue, so soap and water breaks that down, also dish washing liquid, so use soap for long enough to cut down on the risk, no quick finger waggling under water

— Dr Adrian Heald (@DrAdrianHeald) March 4, 2020
Dishwashing soap contains a degreaser. The virus is encased in a fatty shell. Degreaser is exactly what you need. If you're struggling to buy hand-wash, you can still use soap, shower gels, even dishwashing liquid. Basically, any soap that will destroy the lipid layer around the virus. You need to dissolve the oily coating on the virus to kill the nucleus. Dishwashing soap is perfect. Dishwashing liquid kills germs too. Plain old bar soap is fine as well. Any kind of soap will break down the outside surface of the virus and kill it. The reason soap work is because this particular virus is sitting inside a fatty envelope and so soaps that are designed to break up fat will make it fall apart. I recently heard a doctor or research head speaking on the virus and he said that every coronavirus has a lipid coating that is vital to its life. Plain soap breaks up lipids. Dishwashing liquid best of all. Strip the virus of its coating of fat, say bye-bye virus.
A report from MarketWatch says this: Soap dissolves the fat membrane, and the virus falls apart like a house of cards and "dies," or rather, it becomes inactive as viruses aren't really alive. Viruses can be active outside the body for hours, even days.
Disinfectants or liquids, wipes, gels and creams containing alcohol (and soap) have a similar effect but are not as good as regular soap. Apart from alcohol and soap, antibacterial agents in those products don't affect the virus structure much. Consequently, many antibacterial products are basically just an expensive version of soap in how they act on viruses. Soap is the best, but alcohol wipes are good when soap is not practical or handy, for example in office reception areas
Soapy water is totally different. The soap contains fat-like substances known as amphiphiles, some structurally similar to the lipids in the virus membrane. The soap molecules "compete" with the lipids in the virus membrane. That is more or less how soap also removes normal dirt of the skin (see graphic at the top of this article).
The soap molecules also compete with a lot of other non-covalent bonds that help the proteins, RNA and lipids to stick together. The soap is effectively "dissolving" the glue that holds the virus together. Add to that all the water.
The soap also outcompetes the interactions between the virus and the skin surface. Soon the virus gets detached and falls apart like a house of cards due to the combined action of the soap and water. Boom, the virus is gone!
The skin is rough and wrinkly, which is why you need a fair amount of rubbing and soaking to ensure the soap reaches every nook and cranny on the skin surface that could be hiding active viruses.
Alcohol-based products include all "disinfectants" and "antibacterial" products that contain a high share of alcohol solution, typically 60%-80% ethanol, sometimes with a bit of isopropanol, water and a bit of soap.
Ethanol and other types of alcohol do not only readily form hydrogen bonds with the virus material but, as a solvent, are more lipophilic than water. Hence, alcohol does dissolve the lipid membrane and disrupt other supramolecular interactions in the virus.
However, you need a fairly high concentration (maybe 60%-plus) of the alcohol to get a rapid dissolution of the virus. Vodka or whiskey (usually 40% ethanol) won't dissolve the virus as quickly. Overall, alcohol is not as good as soap at this task.
Nearly all antibacterial products contain alcohol and some soap, and that does help kill viruses. But some also include "active" bacterial killing agents, such as triclosan. Those, however, do basically nothing to the virus.
Hand sanitizers with at least 60% alcohol and 20 seconds washing with soap are effective in killing the virus
©2020 THOUGHTSKOTO