A Good Friday pilgrimage ended up in a tragedy when four OFWs including 3 men and a woman died while two other women was critically injured in a car mishap near Shahama in Abu Dhabi, UAE.
The OFWs were in a 4WD car traversing the road from Dubai to Abu Dhabi when their one of their tyres bursted, that's when another vehicle behind them fatally hit their car. Four of the OFWs died on the spot, according to the Filipino diplomats in an interview with Gulf News.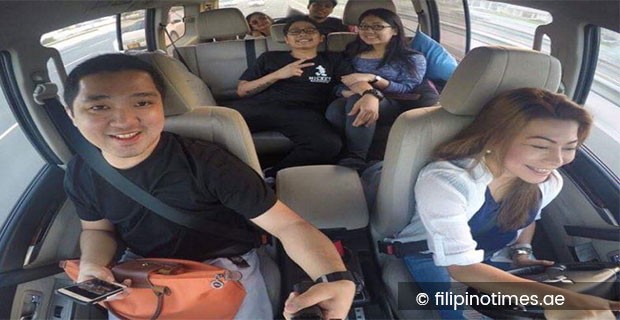 This photo was taken moments before the accident happened.Photo credits to The FilipinoTimes.
"Two women were critically injured. They are being treated at an Abu Dhabi hospital," Constancio R. Vingno Jr, the Philippine Ambassador to the UAE said. he also said that they are awaiting for the official report from Abu Dhabi police regarding the incident.
Vigno Jr. also said that based on the information provided by the friends and relatives of the victims, the OFWs had to get down from the car after their tyre bursted, that's when another car coming fast from behind hit them. "These are the narratives of relatives and friends. We are still waiting for an official report," he added.
Photo Credits to Facebook User Lanzer Minth
As a Catholic practice during the Holy Week, the OFWs were visiting ng the churches across UAE when they met the horrible accident. Possible help will be extended by the Philippine Consulate General in Dubai to the bereaved families of the victims as they promised.
Source:
Gulf News
©2017 THOUGHTSKOTO
SEARCH JBSOLIS